A team of high-level experts
Our team includes experienced and multidisciplinary professionals from the aviation industry: consultants, specialized engineers, air transport managers, airplane and helicopter pilots, flight dispatchers, air traffic controllers, training experts, airport operators, approach designers, etc.
Our experts work across the country to provide operational solutions that meet the highest quality standards.
AIR TRANSPORTATION CONSULTANTS
Our specialized aviation consultants are at your disposal for the realization of your projects.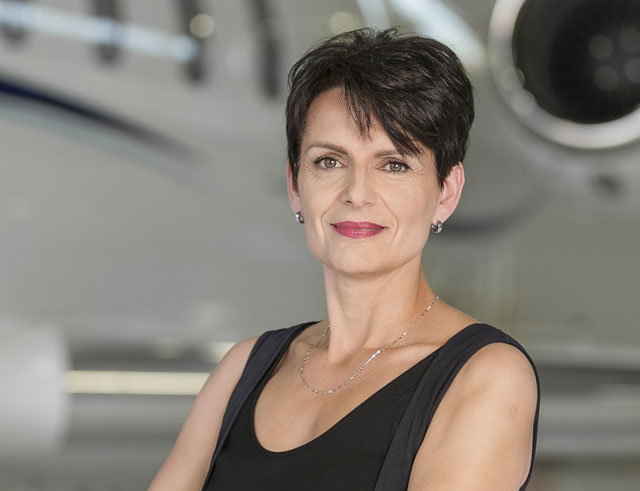 Founder of OCTANT Aviation, Nathalie Tousignant has over 30 years of experience in commercial and business aviation. She obtained her private pilot's license in 1993. In addition to having been the instigator of an air cab service, the director of a flight training center, a member of the Nav Canada Board of Directors and its Navigation System Security Committee, she is the current president of the Association québécoise du transport aérien (AQTA).
As head of OCTANT, she is well aware of the realities of airports and air carriers and puts her know-how at the service of the industry's various stakeholders. Her unique expertise allows her to manage complex projects, integrating regulatory, operational and economic aspects.
Her thoroughness, her concern for a job well done and her mobilizing leadership contribute to the excellence of OCTANT Aviation's growing reputation.
Telephone: 450 678-4884
Cell : 514 246-1237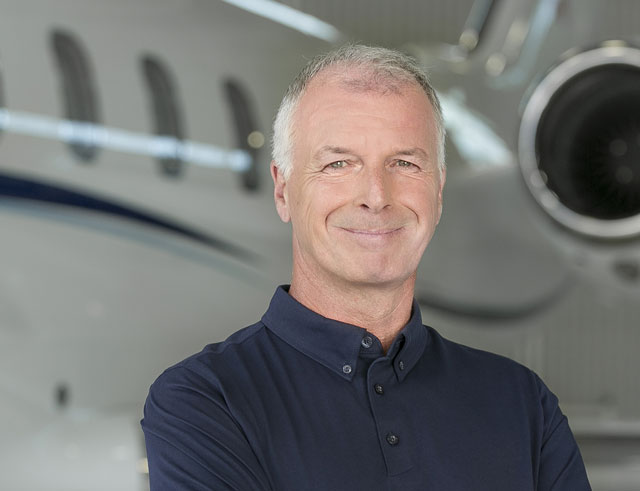 SENIOR CONSULTANT - SMS AND AIR NAVIGATION
Renaud Dunn is an airport safety management systems specialist who studied safety management at the University of Southern California and has worked in the aviation industry for over 35 years. During his career at Nav Canada, he has held positions as a Flight Service Specialist, Supervisor and Flight Service Station Manager. He has led several airspace review projects and various aeronautical studies, such as the risk analysis on the implementation of ADS-B at the Montreal FIR Area Control Centre.
Today, as a consultant for OCTANT Aviation, he brings his expertise in air safety management and airspace design to our clients.
Cell : 514 984-0359
SENIOR CONSULTANT - STRATEGY AND AVIATION REGULATIONS
With over 40 years of experience in civil aviation, Marie-Hélène Simard is recognized for her expertise in regulatory matters. She founded and managed an aircraft charter, training, maintenance and engineering company. She has held management and executive positions at Transport Canada for over 10 years, including Director of Civil Aviation for Quebec. With over 10,000 hours of flight time, she holds an airline pilot's license and an aircraft maintenance engineer's license.
Marie-Hélène Simard works as a senior strategy and regulatory consultant at OCTANT Aviation. She assists our clients, including airports, heliports and airlines, in evaluating and improving their procedures and their compliance with safety standards and regulations.
Cell : 514 237-3015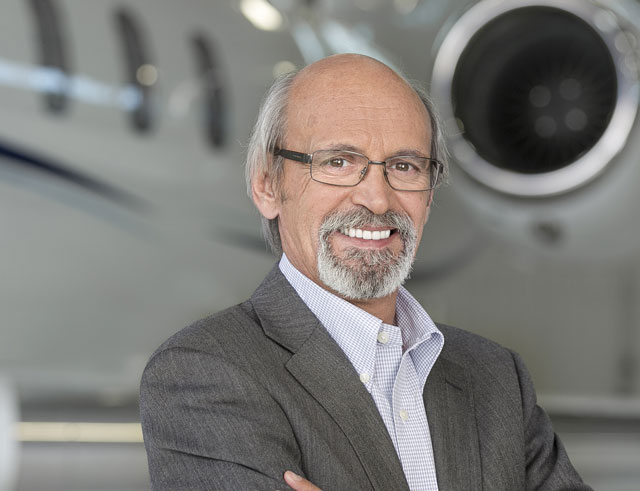 SENIOR CONSULTANT - LOGISTICS AND AIR SERVICES OPERATION
As a specialist in air transportation for over 40 years, Denis Lalonde has dedicated his entire career to providing aviation services for people in remote regions. He has planned, managed and ensured the transportation of over 1.5 million passengers from the Société d'énergie de la Baie James (SEBJ), mining companies, and both private and public sectors. Mr. Lalonde has also held key positions, including Director of Transport Services, General Services and Asset Management. He also was a member of SEBJ's management committee for eight years. He was an advisor for various civil aviation consulting firms.
Today, Mr. Lalonde is a senior logistics and operations advisor for OCTANT Aviation. He recommends effective and efficient solutions so that clients can achieve their administrative, operational and financial objectives. Thanks to his expertise and leadership, he optimizes public and private air transportation services for passengers.
Cell: 514 973-0253
dlalonde@octantaviation.ca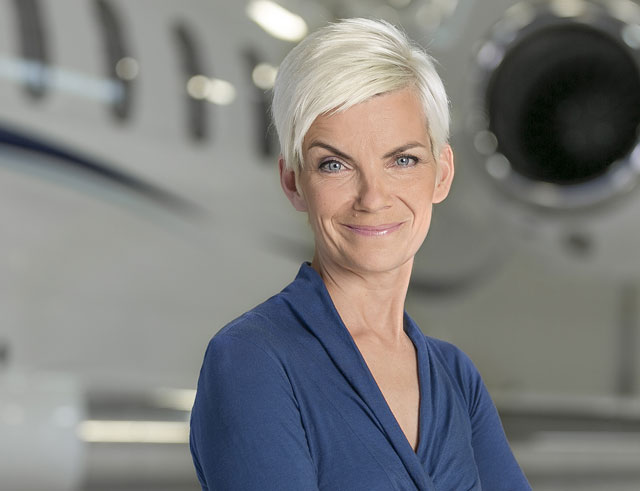 SENIOR CONSULTANT - HUMAN RESOURCES
Marie Tousignant has a Bachelor's Degree in Human Resources and has over twenty years' experience in both the public and private sector. She has an enviable expertise in team management as well as support management teams.
Today, she is Senior Advisor in Human Resources for OCTANT Aviation. She assists managers in resolving day-to-day HR challenges. With a reputation for her pragmatic approach, Marie inspires confidence. She recommends concrete solutions that are adapted to the HR reality of each aviation company she works with.
Cell: 514 975-2883
mtousignant@octantaviation.ca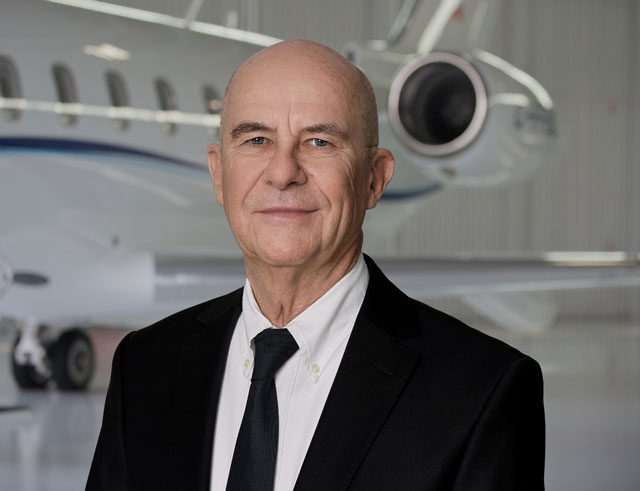 SENIOR CONSULTANT – TRAINING AND FLIGHT OPERATIONS
Pierre Pourciel is a Transport Canada delegated pilot examiner with nearly 40 years of aviation experience. He holds an airline pilot license for widebody and business jets (Boeing 727, Challenger, Cessna, Dash 8 series, Convair, Embraer, King Air Series), a helicopter airline pilot license (Bell, Agusta, Dauphin and Astar) and is a former Certified Aircraft Maintenance Technician. In addition to his service as a pilot, Mr. Pourciel was closely involved in several aircraft and helicopter acquisition projects while managing helicopter operations for medical evacuations. As an experienced instructor, Pierre has trained and evaluated over 250 helicopter pilots for their instrument rating. Since joining OCTANT Aviation as a consultant in 2019, Pierre's expertise is frequently called upon for aircraft performance evaluation and station manager training mandates.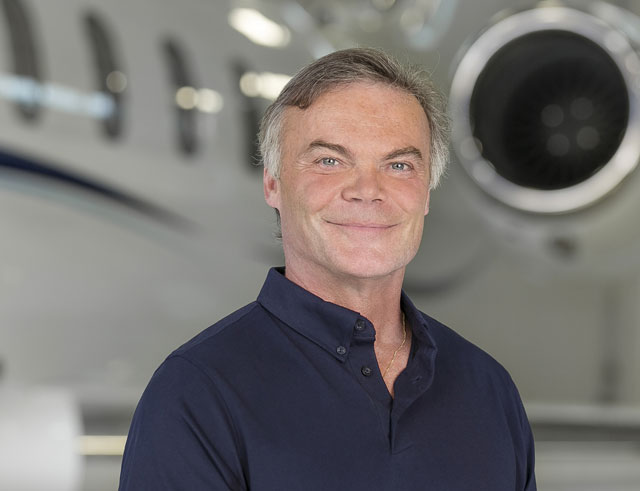 SENIOR CONSULTANT – AIRPORT EMERGENCY AND SAFETY
With over 35 years of experience in the aerospace industry, Pierre Trudeau developed a vast expertise in civil and military aviation. As a CF-101 Voodoo navigator, flight operations officer, and information officer, Pierre enjoyed a long and brilliant career at National Defence.
Trained in airport emergency management and as coordinator in emergency preparedness, Pierre has supported airports since he first arrived at OCTANT Aviation. In addition, he advises clients on the writing of operations manuals as well as on airport safety programs. He regularly presents his awareness program on airport safety. He can assist or even coordinate your emergency exercises. Mr. Trudeau is recognized for his much-sought-after professional expertise.
Cell: 514 475-4433
ptrudeau@octantaviation.ca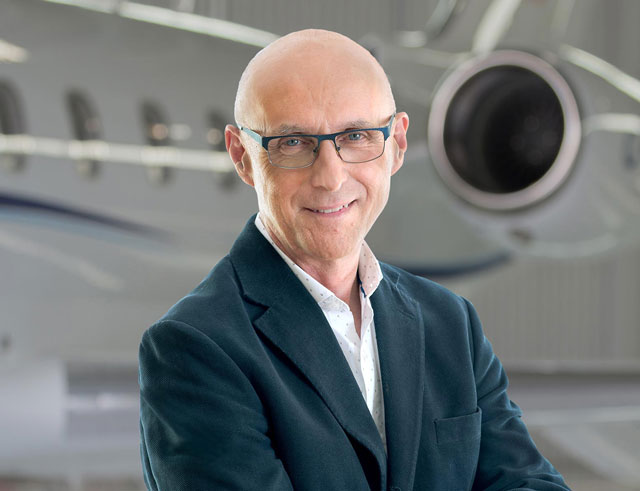 SENIOR CONSULTANT – AIR NAVIGATION
As a pilot for nearly 40 years, Jean Messier has had an Airline Transport Pilot Licence since 2010. He is very active with the Hope Air organization, which offers Canadians in need access to healthcare.
After a successful career in the business world, Jean was Director and President of the Board of the Canadian Owners and Pilots Association (COPA), which brings together 16,000 members across the country.
He has developed advanced expertise in general and private aviation. He has a profound insight of each sector and its challenges. Jean's experience as well as his great analytical skills are much appreciated by our clients in general aviation (owners, schools, investors and airports). Jean is also frequently invited as an expert to set up and optimize instrument procedures.
Cell: 450 779-3303
jmessier@octantaviation.ca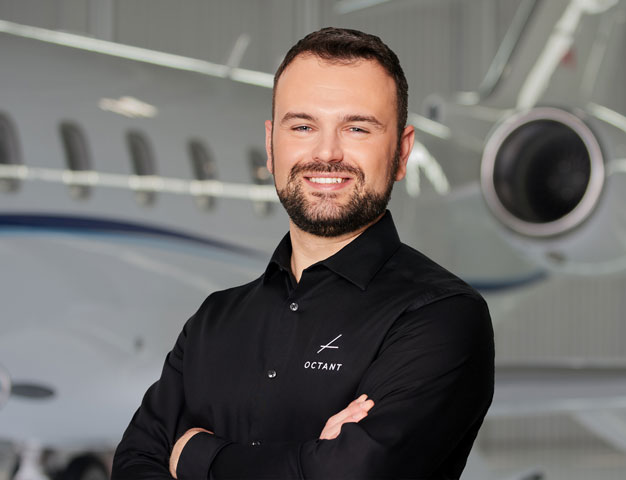 Highly qualified in project management, Philippe Larivière is part of the new generation of managers whose leadership is based on support, enhancement and pragmatism. Prior to joining our group, Philippe managed numerous large-scale civil engineering and architectural projects, both in the Greater Montreal area and in remote regions such as the Lower North Shore and Nunavut. In addition to having the opportunity to develop close ties with clients and partners in the aviation field, the various projects in which he has participated have allowed him to acquire a great ability to deal with complex logistics.
With a first degree in finance and project management and a second in construction engineering, he is known for his rigor, efficiency and adaptability. Philippe plays a key role in our organization and his expertise complements that of our team of high-level professionals.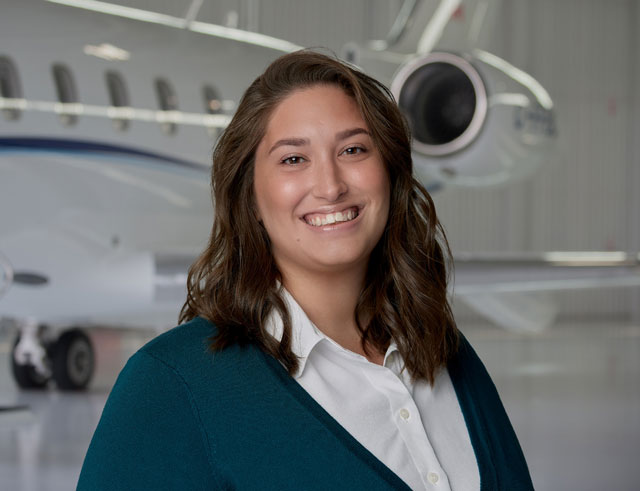 SENIOR ADVISOR - AIRLINE OPERATIONS & MANAGEMENT
Karolann is a graduate of the Centre de formation en transport de Charlesbourg where she completed her flight dispatcher training. Recognized for her efficient and safe approach, Karolann is a manager who fosters team synergy and provides real leadership for our air service management center.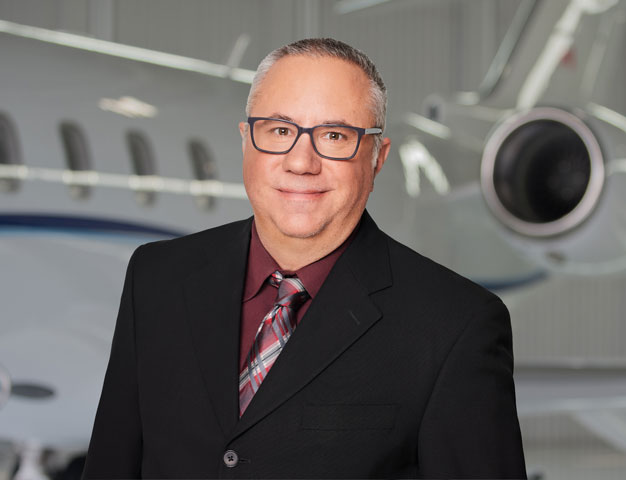 EMERGENCY EVACUATION MANAGER
With a solid experience acquired in the Canadian Armed Forces, where he was notably an aerospace control operator, Martin Chenard holds the position of emergency evacuation manager at OCTANT Aviation. He is recognized for his great integrity, rigor and the composure he demonstrates in an emergency situation.
His strengths in personnel management and his leadership focused on decision-making make him a pivotal element of our firm.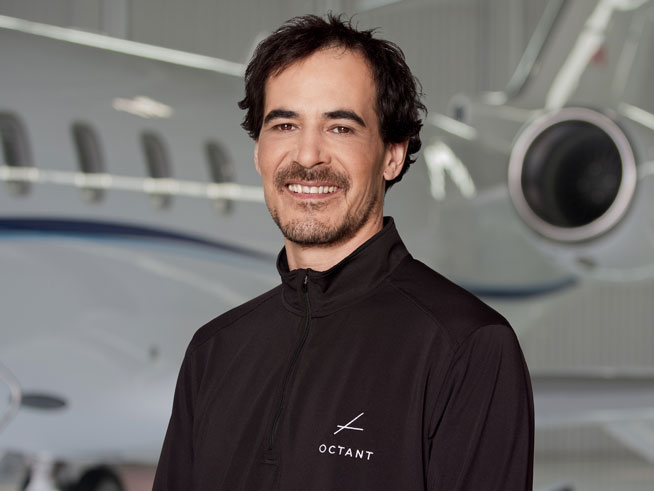 AIRPORT OPERATIONS COORDINATOR
A computer expert by trade, Fred was recruited by Air Transat and then obtained his private pilot's license. Several Quebec aerodromes benefit from the systems he has designed over the years. Thanks to OCTANT, he is now positioned at the crossroads of aviation, technology, and safety, where challenges make the most of his expertise and versatility.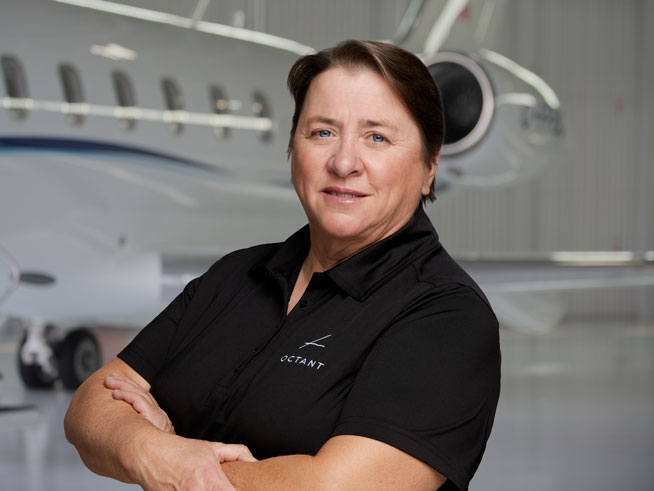 AIRPORT OPERATIONS COORDINATOR
In her 35-year career as a flight services specialist for NAV Canada, Francine worked at flight service stations in Charlo, Fredericton, and Saint John, New Brunswick. In 2021, she joined OCTANT Aviation as our Airport Operations Coordinator, where she plays an integral role in the operations team for a private airport in Nunavik.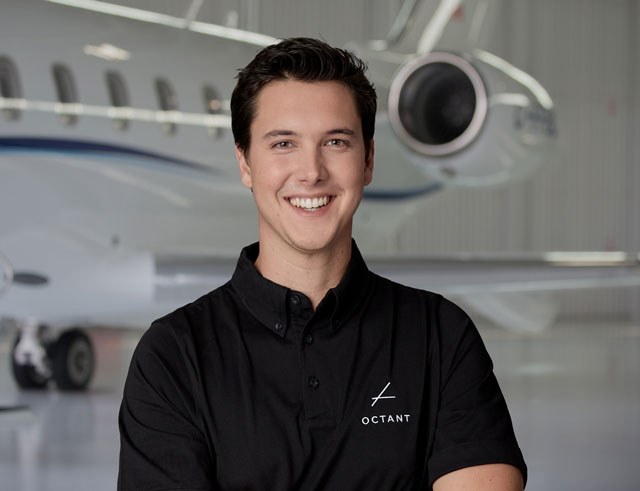 Philippe has an Economics degree from York University and considerable business experience. At a young age, he owned and operated franchises, later to become a division manager for a construction company in the GTA. He has recently decided to pursue a career in aviation by enrolling into a fully integrated ATPL program.
Philippe joined the OCTANT team in 2020 during the air transport crisis to provide his expertise in project management and support our clients with their needs.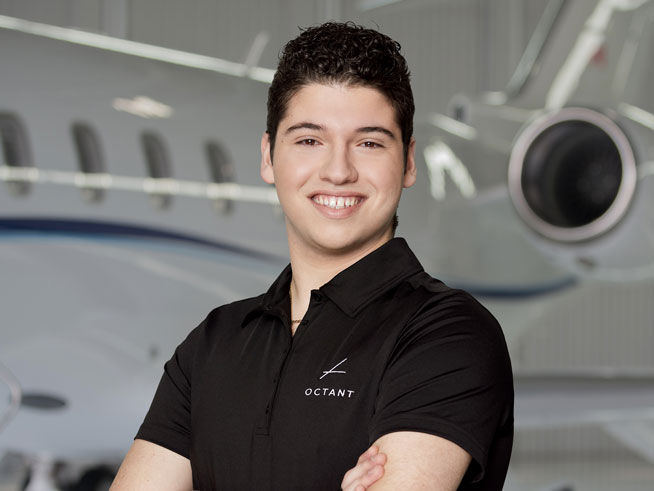 SUPERVISOR OF AEROMEDICAL OPERATIONS
Dario was passionate about aviation from a young age and is currently completing his airline pilot training (ATPL-A) at Air Richelieu College. He joined the OCTANT Aviation team at the beginning of 2022, with the interest of discovering more about different aspects of our industry.
COORDINATOR FOR CALLS FOR TENDERS
Rachel has a degree in business administration and holds an airline pilot's license. She has recently completed a certificate in air transport management. She joins the OCTANT Aviation team as a tender coordinator and project analyst. Her experience acquired with various operators allows her to adequately support our clients in the execution of their mandates.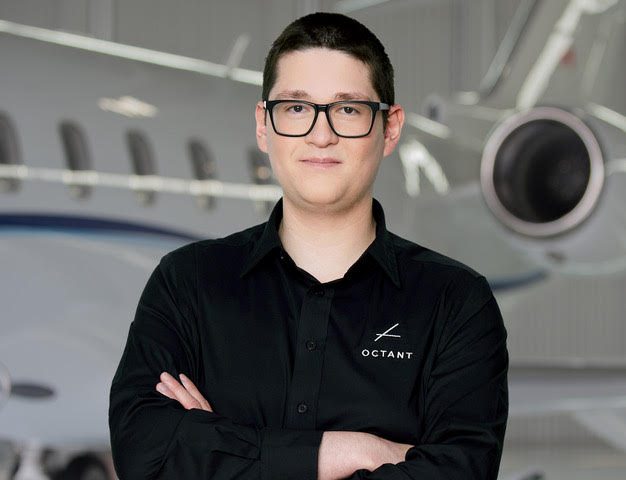 Holder of a certification in Flight Dispatch (DEP) from the Centre de formation en transport de Charlesbourg, Peter Palkovic demonstrates a great sense of analysis and organization as well as undisputed problem-solving skills. In addition to being fluent in 3 languages ​​(French, English and Spanish), he uses his integrity and his ability to communicate within our organization.
After completing a bachelor's degree in computer science, Reda Oubelqasse turned to his true passion: aeronautics. Recognized for his discipline, autonomy and ability to work as part of a team, he is currently completing a DEC in aircraft piloting. Also a search and rescue volunteer with L'Association Civile de Recherche et de Sauvetage Aériens (ACRSA), he joins our team in 2022, where he acts as an analyst and reservations agent.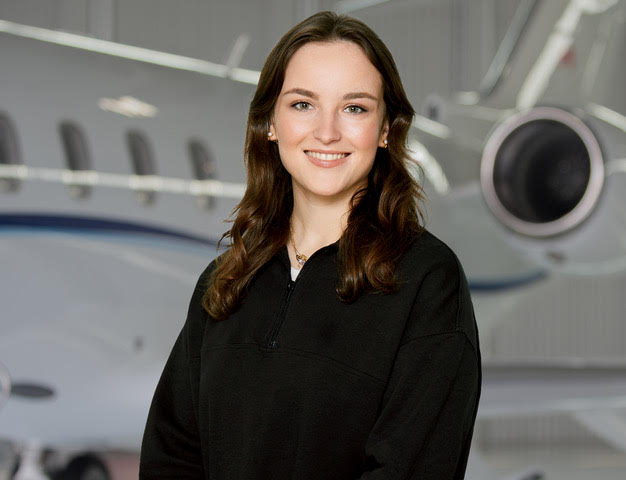 Mathilde Caron is known for her rigor, autonomy, sense of responsibility and ability to work as part of a team, and has a keen interest in aeronautics. After completing her military training and her "brevet d'initiation à l'aéronautique" in France, she is currently completing her Airline Transport Pilot Training (ATPL) at Collège Air Richelieu.
Flight dispatcher - Reservation agent
Introduced to flight dispatch at OCTANT Aviation, William Lambert holds a private pilot's license and is currently completing training as an airline transport pilot.
Respect, perseverance and self-control are values that define him, as evidenced by his appointment as Squadron Commander with the Royal Canadian Air Cadets and his 2nd dan black belt in taekwondo.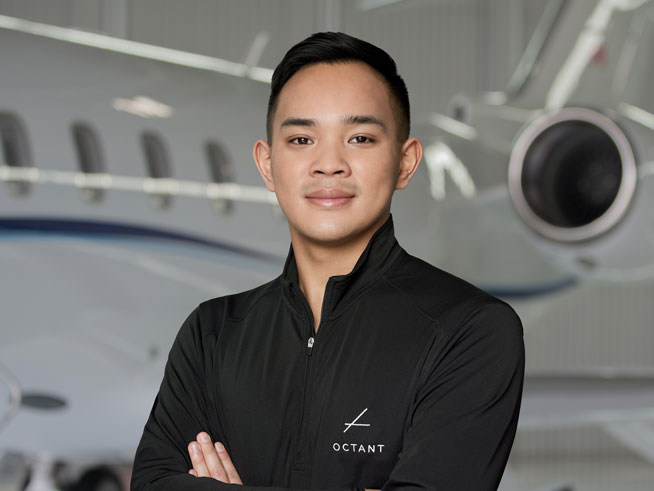 FLIGHT DISPATCHER SPECIALIST
Allan, originally from Madagascar, is a commercial pilot who earned his Airline Transport Pilot Licence (ATPL-A) at Collège Air Richelieu. On top of his duties as a flight dispatcher, Allan is well on his way to completing his flight instructor training.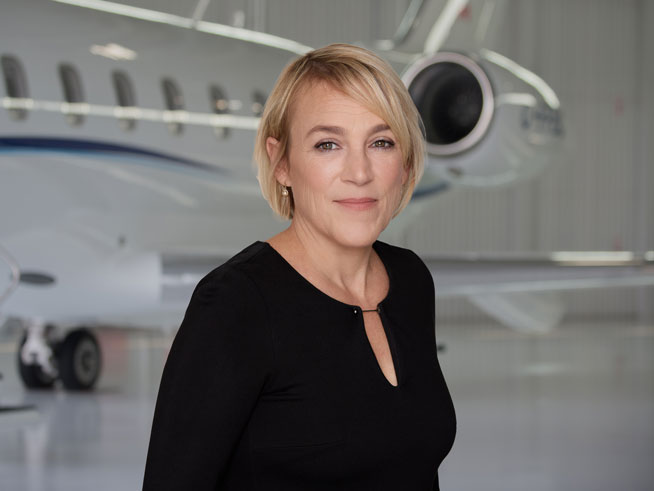 Isabelle joined our air services management department in the fall of 2021.
Having worked for many years in the event and logistics sector, Isabelle is always pragmatic and professional thanks to her calm temperament. Very useful qualities to solve the constraints related to air operations.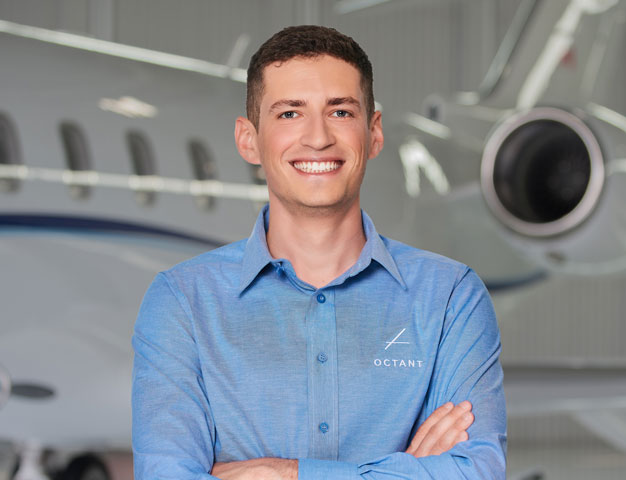 Already holder of a scientific baccalaureate (Lycée de la Mer) and a diploma of professional studies in electricity, Antoine Laville is in the process of obtaining an attestation of studies (AEC) in aircraft piloting. Known for his sense of responsibility, he demonstrates a great understanding of the world of aeronautics. His skills in mechanics, construction, sales and sports coaching have enabled him to develop a remarkable adaptability. He works as a booking agent at OCTANT Aviation.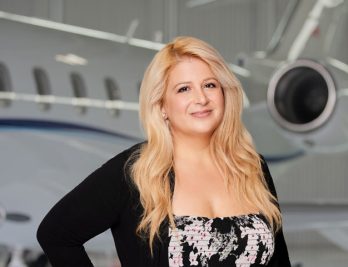 Her experience of nearly 10 years as a flight attendant at Air Canada and the various responsibilities entrusted to her as a customer service manager within various companies make Daphnée Ferrante an excellent reservations agent at Octant. The quality of her work is based in particular on her ability to listen, her ability to communicate, her ability to work under pressure and the skill she demonstrates in problem solving.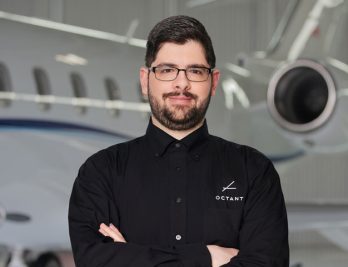 In addition to his pragmatism, strong analytical skills and predisposition for collaborative work, Frédérick Bernard places great importance on customer service. More than 10 years' experience as a customer service and technical support specialist with various Quebec companies have helped make him a proven and trustworthy reservations agent.
Lucille Cornu holds a Bachelor of Science degree in physics and chemistry, and is currently completing an integrated aircraft piloting technique (ATPL) at Air Richelieu College. Her ability to adapt, her ability to listen, her strong sense of autonomy and her propensity for collaborative work make her an invaluable addition to the flight dispatch team.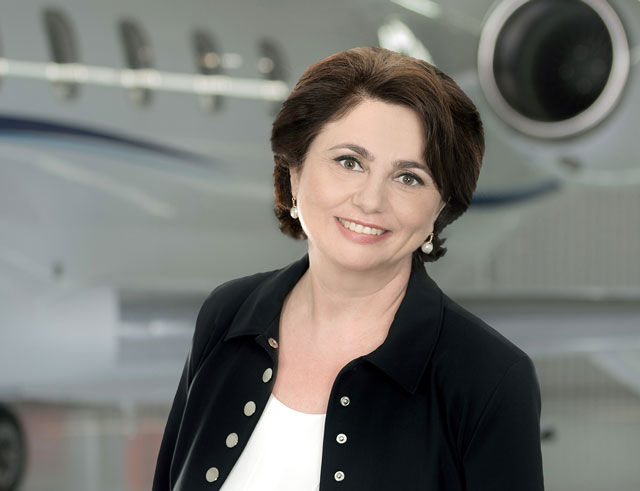 Skilled with numbers, rigorous and methodical, Elena ensures that the accounting books are kept properly at OCTANT Aviation. Before joining our team, she worked for one of the largest federations of community organizations in the country. Originally from Central Europe, Elena holds a degree in administration from the Academy of Economic Studies of Moldova.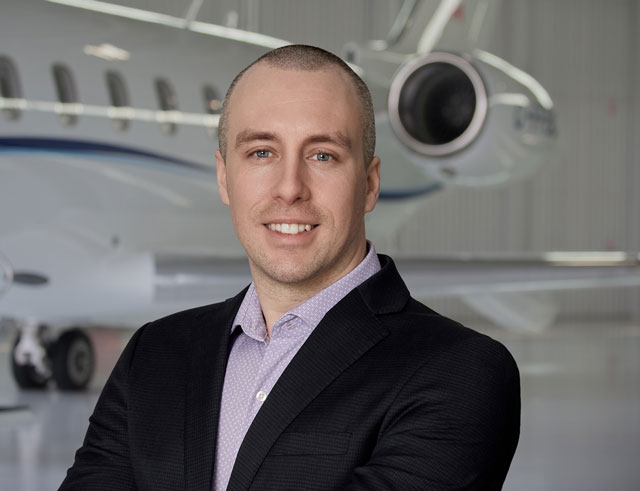 With an airline pilot's license, Alexandre was an assistant director of operations and a bush pilot for an airline in Ontario.
He supervised complex missions, such as emergency flights with forest fires or police operations. He also organized various operations in Northern Ontario, particularly with native communities.
Its expertise in air operations is an asset to support our customers in their various projects.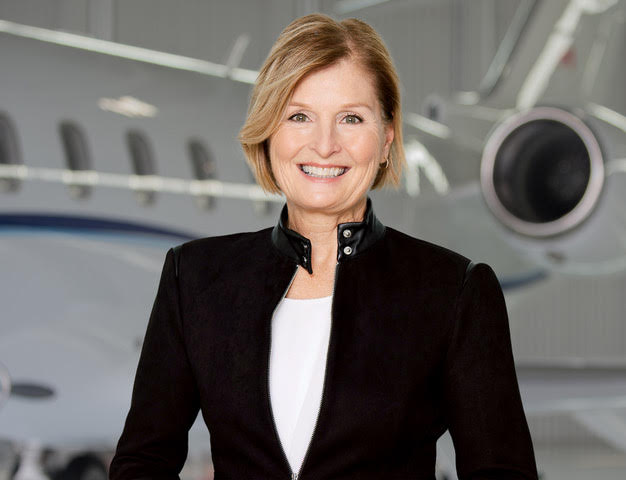 An experienced manager, Julie Roy stands out for her versatility. With a bachelor's degree in physiotherapy, she worked in the medical field for many years, before turning to business. After a 10-year stay in Spain where she acted as a manager and entrepreneur, she then became a financial security advisor and director of business development within Quebec companies. Curious and organized, she stands out for her great business sense and her ability to prioritize customer service.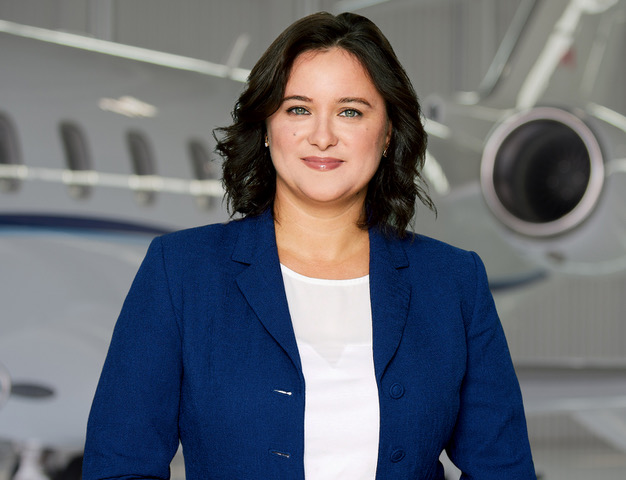 With a bachelor's degree in finance and a degree in economics, Ludmilla Vicol works in the accounting department at OCTANT Aviation. She is fluent in 4 languages (French, English, Romanian, Russian) and stands out for her great sense of responsibility and integrity.
YOU HAVE EXPERTISE IN AIR TRANSPORT?